November marks the beginning of the holiday season when lots of eating is customary but even on Thanksgiving Day this year I was able to enjoy turkey and even pie while still making progress on my weight loss plan. The end of the month marks another good step toward fitness and another notch taken up on my belt.
November Weight Loss
Last month I ended up a few tenths of a pound short of my target of 225 but this month I succeeded in getting under my target of 220, just barely, but under at 219 pounds, so I feel better. Even if by a hair it is much more pleasant to barely succeed than to just miss a goal!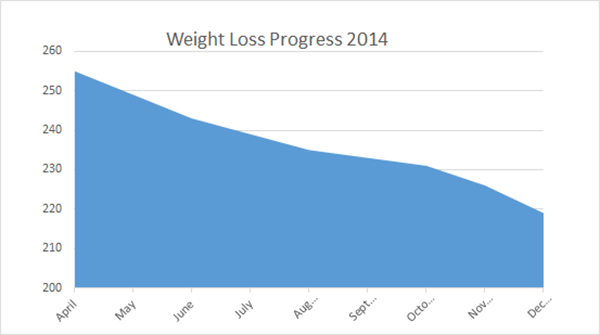 Getting under that 220 pound mark was a big achievement for me personally and psychologically in that it marked my moving technically from being obese to being overweight. Looking at the graph, while it is very slight so takes a close look, the trajectory for November is slightly better than it was in October. So all in all, it has been a good month.
How did I handle Thanksgiving Day? Interestingly, I mentally prepared to just eat what I wanted and accept a small setback in order to enjoy the holiday. However, I have gotten used to eating more moderately and when it came time to fill my plate I just did not want to overeat, so I only ate a relatively modest amount of food.
In addition to that, I skipped a number of items I might have piled on in earlier years. For example, I totally ignored the dressing and gravy. I did not really deny myself, I just chose to eat other foods like the cranberry sauce and green bean casserole and even then, in moderation. Then, instead of eating a piece of pie for dessert, I set aside a piece of pecan pie and ate that later for my supper.
Exercise Progress
My exercise for November followed my plan and also went reasonably well. There was one day on which I was tired, busy, and just failed to find the energy to stick to my plan, but otherwise I was successful in following my routine.
My plan calls for weight training on Monday, Wednesday, and Friday, then aerobic exercise (on my treadmill) on Tuesday, Thursday, and Saturday. This works well for me and I like the pattern.
My aerobic exercise is for twenty minutes and over the course of the month I was able to adjust the speed of my walking up slightly although it is still reasonably slow (3.5 mph). I backed off a bit on my weights in that I dropped two exercises out of concern that they were not too safe for me at this point (for my back). However, I did move up in the amount of weights used on others.
Fitness is More than Weight and Exercise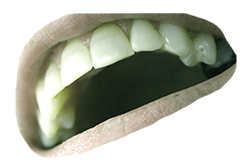 When we talk about getting fit, our primary focus is on getting our weight under control and exercising regularly. But clearly that is not all that is required.
In one way I have been consistent in my health habits over the last few years. Unfortunately it is consistently bad. I have neglected everything!
In November I faced the music and jumped on a new fitness area by making an appointment for a checkup with my dentist. I was a bit trepid about the whole process and expected dire results since I had not been in to see my dentist for several years, but I was somewhat pleasantly surprised to find I had only two cavities.
Over the next few weeks I will have to venture back twice more since one of the cavities is rather large and will require a cap, but I am fortunate not to require a lot more. Now the main thing is to discipline myself to better tooth hygiene including consistent daily flossing as well as brushing better so that I can maintain good gum tissue as well as healthy teeth.
Now to Finish the Year Strong
For many in America Thanksgiving Day is a time for recognizing and showing appreciation for the blessings that are ours throughout the year. In most ways this year has been good one for me health wise and I am thankful that I am moving in a positive direction toward getting fit at last. Weight loss wise it is likely that I will have reached the half way mark by year's end. I'll let you know in about 30 days if I do.