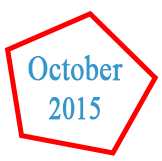 What a exciting month in my Getting Fit at Last program! This has been a pivotal month for me in a number of ways so I am eager to write this report, in part because it will help me pull together my thinking about the path ahead. If you are taking time to read this I hope it will give you something to think about as well.
Why a Change in Direction is Required
If you read last month's report you already know that after sixteen months of slow but consistent weight loss, averaging about four pounds a month, I have reached my target weight of 175 pounds. That represents a weight loss of over 80 pounds altogether.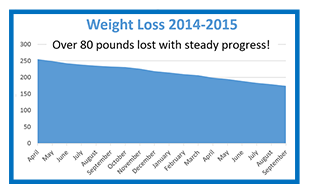 From time to time I may continue to show the weight loss progress chart, especially in posts about the weight loss plan itself, but it will not be every month and the chart may be a bit smaller than previously (smaller as shown here). But since the weight loss phase is over we will now move on to some other areas of focus.
The primary focus for our next stage as far as weight is concerned will be on weight maintenance. As I have pointed out a few times before, I consider this the most critical stage of any weight loss program and one that is absent in most cases as evidenced by the fact that almost everyone who loses weight gains it back in the next year.
There are a number of other areas I want to work on. In particular I want to give some more attention to my exercise program. But just as my first year (a little more actually) has focused on weight loss, I will give absolute priority to weight maintenance for several months. If I only achieve one thing it will be that until I can feel confident with it being permanent.
A New Direction in Eating
The most enjoyable aspect of my change to weight maintenance is not that I get to eat more, although that is a nice benefit. The best part is that I am discovering new and more tasty foods.
Let me take these two ideas in turn, however, since I do want to share how I am eating more as well as discuss what I am eating. Parenthetically let me state clearly that I am not even thinking about returning to old eating habits or foods, not a bit. Neither am I thinking about increasing the size of most meals by much. I recognize and have clearly internalized the fact that on average I will only be adding a maximum of around 500 calories a day beyond the weight loss diet.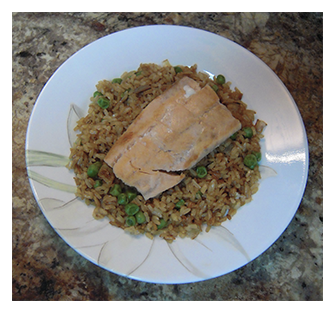 When I increase meal size I am largely doing so by adding an extra amount of some of the side dishes, primarily of vegetables. I am mostly increasing my food intake a bit by adding meals—for example by eating breakfast and lunch instead of just what a lot of folks call brunch which has been my norm while losing weight. Additionally, I am eating an occasional desert or more calorie laden food in social settings.
The new foods I am eating are those that I am learning to cook, mostly from scratch, like this grilled salmon filet on a bed of brown fried rice. I expect to write a good bit about these new foods both because I find it fun to discover and learn to cook great tasting, low calorie dishes and because I suspect that finding good food they can eat (without getting fat!) will be of interest to my readers.
Success With Weight Maintenance
During my first month after reaching my weight loss goal, while eating a good bit more, I did not gain any weight. In fact I lost another two pounds! This is great, and I do not mind if I lose a few more pounds.
At 174 pounds I would be right at the very top of my appropriate weight range. While this is fine, and in truth I look quite thin at that level, I can relax a bit more about my eating options if I have a few pounds of leeway to work with. I never want to exceed 175 pounds from now on, so if I can work my way down to 170 over the next few months that would be a good level for maintenance.
The chart above is for only one month, but what I look forward to is seeing it a year from now (and eventually for more) showing consistent weight maintenance holding within this five pound range of 170-174 pounds.
Exciting Days Ahead
Persistence and patience have been the focus during the past year. That is what is required for success with weight loss when you need to lose as much as I did. Largely it is a boring process. This next phase should be a lot more interesting. Already I am enjoying it.
I am committed to getting fit at last—achieving my success one day at a time. You are invited to join me in the journey!