When I got up on Christmas morning I received an unexpected gift. I was so excited about it I thought immediately about making a blog post celebrating it as the best Christmas gift.
But before I could even put a single finger to the keyboard I realized that it was at best second to what I received the day before, and by the time I could start writing I realized it was at best third to another!
The Best Christmas Gift
When we write online, our audience comes from all over the world. My primary website is Success With Money. It has readers from countries all around the globe, so certainly not all are Christians—even in America which is primarily Christian there are many other faiths as well.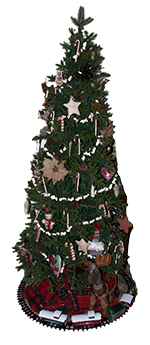 But even if people come from very different backgrounds, there is one thing about the life of Jesus that is worth considering for all mankind. The focus of Jesus was on love and peace. He taught others to forgive, to respect and love others as they did themselves. There has never been a time in history when this message was more important than it is today.
As Christians exchange gifts and cards in this season, one of the common themes is a portrayal of the baby Jesus with angels proclaiming the message of "peace on earth, goodwill to man" (man, here meaning mankind—all people.
While sadly lacking in much of the world including among many elements of our society in America today, the greatest gift of Christmas for us all may be the gift of this emphasis on love and peace. I pray it may take hold on many of our minds and hearts.
The Second Best Christmas Gift
Unfortunately, there are many around the world for whom this Christmas season may not hold much joy. In the news of our day we are all aware of unnecessary conflict, suffering, and even deaths that are unwarranted and bring sorrow to many people. Our best wishes to all of these.
But for me and our family, this is one of the best Christmas times ever. We miss our son who died two years ago in the wake of Christmas, but both of our daughters and all but one of our grandchildren along with our single great-granddaughter got together on Christmas eve. For a time we blocked out the rest of the world and realized the positive side of family.
This gift of the Christmas season this year was a great joy to me as I witnessed an increasingly positive recognition of family among us. There were expressions of love and appreciation for family that were very positive and a predictor, I hope, of an even better future.
The Third Best Christmas Gift
All of this brings me back to the beginning, to what I initially broke out in joy over, thinking it was such a terrific Christmas gift I had to share it in the first place. Now it seems rather anti-climatic I suppose, but to me is is a great gift.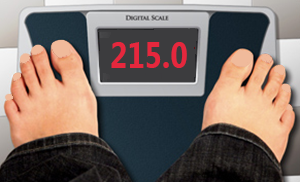 For last week or so my weight had been on another plateau and I had gotten a bit discouraged. Yesterday, Christmas eve, I had decided to forget my diet plan a bit for the rest of the holidays and regroup after New Year's Day (not to get careless, mind you, just to enjoy the holiday and not focus on losing weight). If fact, yesterday I ate three pieces of Christmas goodies.
But to my amazement, when I got on the scales this morning, I had dropped a couple of pounds from what it showed the days before; I even weighed twice to make sure. Obviously, that is still a large number, and I am still much overweight, but it is a major milestone.
I began my weight loss journey at 255 pounds and 215 is the halfway mark toward my overall goal of losing 80 pounds, an intermediate target I had been focused on for some time. After fluctuating up and down, but staying a pound or two above for days, the scale finally dropped down to that magic 215.0 pounds. Fantastic!
What Is Your Best Gift, This Year?
Joy comes from our focus on the positive. It is easy to see the problems of our world and in our personal lives. But as this year of 2014 comes to a close it is good to turn away from the negatives and think about the good things we have. If we are looking for the good, even something as small as a number on the scale can bring us great joy!