Although not perfect, October has been a good month as far as progress on my fitness journey is concerned. As is human nature, I am never satisfied totally, but in general I should be happy with what I achieved during the month.
Weight Loss Achieved
This is where I should be most pleased but exactly where I feel a little disappointment. I really wanted to get under the 225 pound mark, but it did not happen. Close (within 1½ pounds), but no cigar, as they say.
Nevertheless, I did break the plateau I was on, as the chart shows. Although I lost only a little over a pound a week, the rate was better than in the previous month when I hit something of a plateau. In addition, I reached the one-third mark as far as overall weight loss progress is concerned.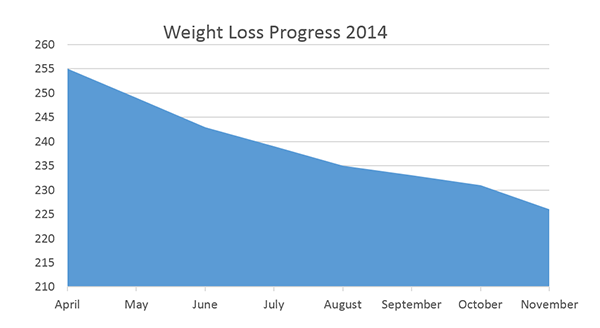 There is a particular reason I look forward to getting under that 225 pound mark. I remember very well the first time I hit that level going up. At that time it seemed really extreme. I could not believe it was possible I had gotten so heavy. Yet, after losing a bit I soon started up and went way past that mark.
This time I only want to wave at it in passing, on my way down, and never look back. Then I can start looking forward to the 200 mark in a similar fashion.